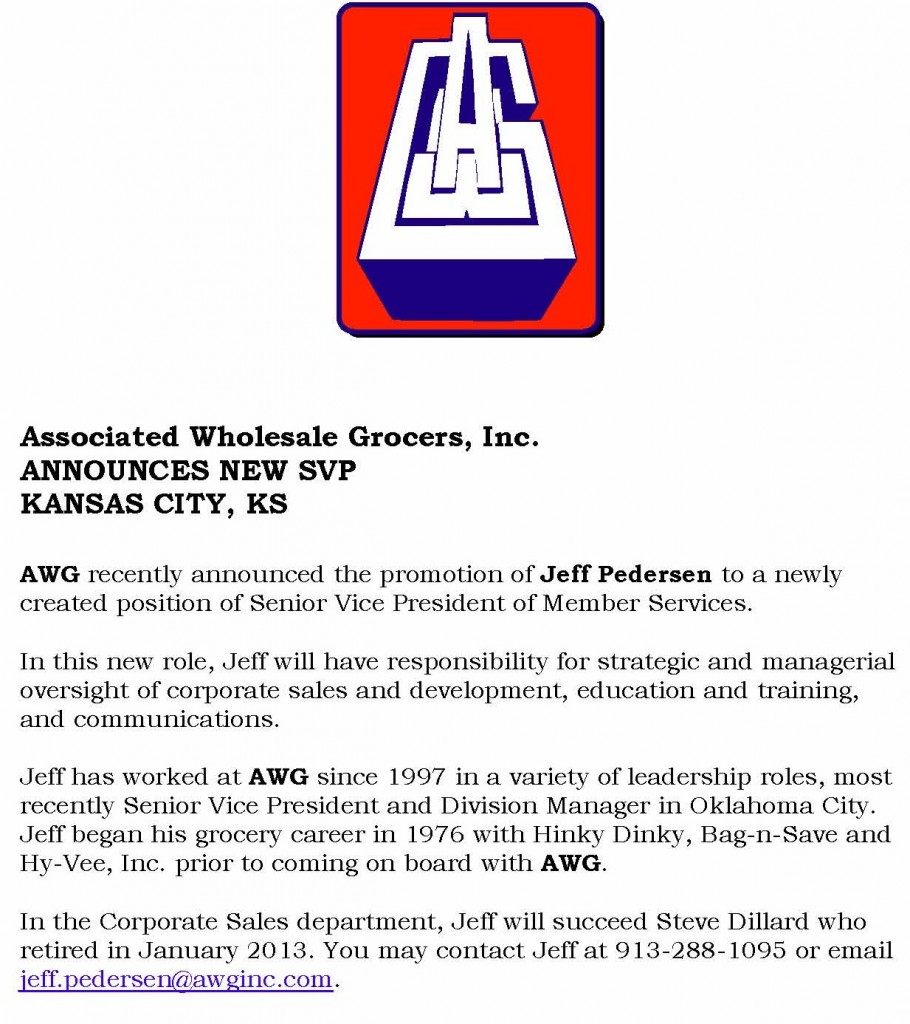 Associated Wholesale Grocers Launches Customer Connect Center, a Social Media Listening and Engagement Hub
Leading Grocery Co-Op Positions Itself to Strategically Support More than 2,400 Independent Stores in the Digital Age
Kansas City, Kan. (Wednesday, March 27, 2013) – Associated Wholesale Grocers, a leading store-owned cooperative comprised of more than 2,400 retail stores in 21 states, announced Monday a groundbreaking social media monitoring and engagement program to support its independent retailers. The Customer Connect Center (C³) houses trained subject-matter experts who leverage industry-leading technology to provide reporting and engagement services to member retailers. The program is built upon comprehensive monitoring of social media websites and other online content sources.
"We are always looking for ways to provide high-value services to our retailers," said SteveArnold, AWG Sr. Vice President of Grocery Products. "Our marketing and advertising group contains really talented social media experts. We will keep our independent retailers competitive in the fast-paced digital marketplace through offensive and defensive monitoring and engagement."
AWG Marketing/Advertising provides full-service marketing and advertising programs for member retailers at competitive rates, allowing co-op members to benefit from the group's collective power.
"We already create and manage digital programs for many member retailers around the country," said Corporate Marketing Manager Kate Favrow. "The C³ will enhance these programs by helping retailers to act upon social media conversations and data."
The AWG Marketing/Advertising team will also leverage the C³ to monitor conversations around the company's four private-label brands: Best Choice, Always Save, Clearly Organic and Superior Selections. For more information on these brands, visit www.AWGBrands.com.
To view an introductory video of the Customer Connect Center, visit www.YouTube.com/AWGCorporate.
About Associated Wholesale Grocers (AWG)
Established in 1926, AWG is an 86-year old retailer-owned grocery cooperative, headquartered in Kansas City, KS. With annual sales of $7.85 billion, AWG provides independent retailers with quality merchandise at the lowest known cost of goods in the industry. AWG's existing full-line distribution centers are located in Kansas City, KS; Springfield, MO; Oklahoma City, OK; Memphis, TN; Nashville, TN; Fort Worth, TX; and Pearl River, LA. AWG currently has over 600 member-owners and services over 2,400 retail outlets in 21 states. For more information, visit www.awginc.com or follow @AWGCorporate on Twitter.
About AWG Marketing/Advertising
AWG Marketing/Advertising offers AWG member retailers with complete solutions to reach the grocery consumer. The group offers programming from print ad design and distribution to in-store marketing programs and robust digital media offerings. The C³ is the latest example of AWG Marketing/Advertising using AWG's group buying power to provide cutting-edge marketing solutions at effective rates. AWG Marketing/Advertising is based at the company's headquarters in Kansas City, Kan and serves all seven divisions: Fort Worth, Gulf Coast, Kansas City, Memphis, Nashville, Oklahoma and Springfield. For more information, visit www.AWGAdvertising.com or follow @AWGAdvertising on Twitter.
Media Contact:
KyleRogers
(913) 288-1057